(OOC: I made like tons of my application like late at night and I was pretty sleeply at the same time. (Yawned like 40 times and the next day won't be very good since I stayed up like...all night doing this. Probably be cranky the next day and if I did something wrong in here, I'll be pissed cause I stayed up all night doing something and it turns out I did it wrong) Doing a app in one day is defetinely something I can not do. I sure hope that I don't have to redo the history though...cause that would be a pain....)
○~Personal Info~○
Name:Rose Erika Inoue (Named her after girl who's actually in the picture in apperance, one of my fav bleach character's and one of my fav flowers)
NickName:Eri-Ro (E rio) [literally E as the letter E and Rio as that one city in brazil I think..)
age:15
birthplace:Yoko village
Gender:female
Apperance: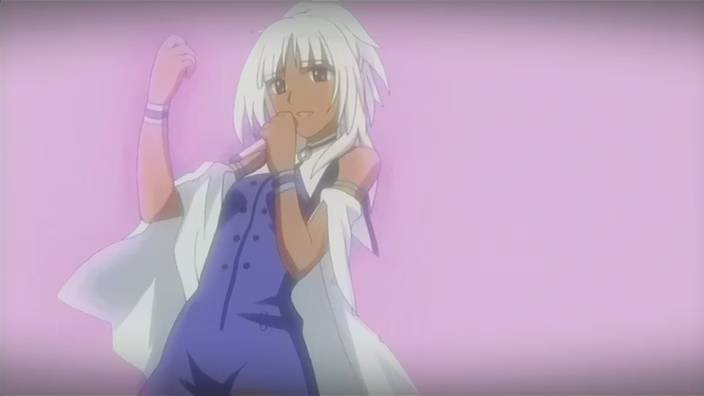 special characteritics:Eri-Ro is a very good singer and cook.
(Being a good cook is another thing that Erika(girl's picture and name I'm using for my character) has)
During the new moon Eri acts...not normal. She acts like her twin Rie. Eri is also fast a learning new things.(Rie will be mentioned later)
Personality:Eri's personality is normally happy and nice to people out of battle. In battle she'll try her very best best and sometimes more. She also may even try to act cute in battle also along with taunting when she feels like she won't be able to win.
○~Detailed Info~○
rank:pawn
weapon:A gun. (not too powerful, but can cause damage)
attachments:none
○~Powers~○
power:Force fields
description:Makes a very light purple, similar to white color force field that can last for 30 seconds then have a 10 second wait before putting up another. The Force field does not form a dome around Eri Ro, the force field can only be put in front of her, behind her and the side of her, also the force field is almost the same size has Eri Ro it's only a tiny bit bigger than her.
classiffication:level 1
○~History and Role-play Sample~○
History:The parent's of Eri and Rie, Jem and Kai met when Jem tried to save a Kitten. Eri was born in Yoko town along with her twin sister Rie Tsuki Inoue. Their mother(jem) and father(Kai) got into an accident on the same day that they were born, so before their mother died, she gave birth to both of them and died shortly after naming them and giving them both necklaces. Rie came out first than Eri, Rie had black hair and was giving a new moon necklace while Eri had white hair and was given a full moon necklace. Years afterward, Eri and Rie were always together and was watched over by a maid, while their father was busy working. One day the twins found an injured kitten and decided to keep it until it was healed. One day their father came home acting weird. He then snatched Eri and Rie and practically threw them in his room, he then tied them up to the end of the bed (where the legs were) and when he came back he had the kitten practically choking in one of his hand and a knife in the other. He then slammed the kitten in the floor, which caused Eri scream Stop! Your hurting the kitten! He then started to mutter something about their mom and kittens. Just when he was about to stab it. Rie ordered him to put the knife down, which stopped him for awhile, but he then got up and walked from the kitten to Rie and punched her than cut her cheek and punched her again, he then continued to beat her up. At first Eri didn't say anything, but after awhile Eri couldn't stand seeing her sister getting beaten and kicked at him. He then stopped beating Rie, turned around and slapped Eri, he then untied her and kicked her to the ground. He left the room for awhile then came back with a burning hot piece of metal. He then struck Eri with it over and over. The maid then came and saw the injured girls. Their father then went after the maid and grabbed her by the hair and dragged her outside and killed her. Both girls knew what was going on, Rie, the older twin then kicked off her shoe and used her feet to pick up what was inside it a knife, she brought the knife to her mouth so she could cut off the rope that tied her and once she was free she untired her sister and they both ran away from home.
The girls were adopted by a woman named Ray, who was very kind to them. One day the girls found Tao water. Rie was the one to drink the Tao water, while Eri heistated and in the end did not drink the water. Rie gained the power for her nails to turn into sharp blades and extend over several feet. Rie split from Eri and shortly afterward went back home and killed their father. Leaving the 12 year old orphan Eri familyless and alone, that is until one day, one year later she was found by a man named Takaomi, one day when she was on the street begging for money. Takaomi was at first nice and kind to Eri for a few months, but then he turned into a monster. Meanwhile as this was happening, the now 13 year old Rie was killing people and started to become known as a crinimal. Eri stayed with Takaomi, knowing that she had no where else to go and even if she did escape she wouldn't be able to live enough to see her 16 year old birthday. Then one day Takaomi came home rushing through the door and quickly locking it, he then hurried up and closed all the curtains in the house and when Eri asked what was he doing he just told her to shut up and pushed her down to the ground. A few minutes afterward, windows started to shatter and Rie came in the house and tried to attack Takaomi, he in response to that tried using Eri as a shield to protect himself, but that didn't stop him from getting hit since Rei only used one of her finger blades to extend, she stopped the finger blade very close to Eri's face and used one of her finger blades on her other hand to kill Takaomi by hitting him directly in his head quickly and quickly pulling the finger blade from his head. While Takaomi fell to the ground Rei turned the finger blade that was near Eri's face to his middle body area and hit him directly in the stomach. Rei then shorten the length of her finger blades and with a flick of both of her wrists his blood immidiately landed on the ground. Rie looked at Takaomi's body and wickedly laughed she then turned to Eri, who was now staring at Takaomi's body. Eri turned to look at her sister whoose eyes that used to be filled with joy was now filled with bloodlust. Rei than pushed one of Eri's pressure's points and caused her to become unconcious, when Eri did wake up. She was in a room and could barely remeber what happened. After several minutes in the bed Eri then started to remeber what happened, she was forced to drink Tao water and somehow her twin died in a building and one of the windows in the building showed that the night sky was dark...and there was no moon. Just getting the image of her twin's body broke something within Eri and that's when Eri's New Moon personality appeared. Eri later found out that she had the power to make force fields and that the house she was living in belonged to an woman named Amaterasu, who also drunk the water of Tao and had the power to burn things that is when the sun is out. Ameterasu was the one who got Eri to be an Apotles like her, she also was the one that gave Eri the nickname Eri Ro. Amaterasu trained Eri how to fight and noticed that she was quick at learning new things. Now Eri and Amaterasu are now traveling.
Rp-sample:Eri Ro was obviously tired since she kept on yawning over and over again. "Are we almost there?" Eri Ro asked. Amaterasu looked at Eri Ro "No, not yet." Amaterasi then yawned. "Maybe we should rest Ama?" "Why?" "Cause both me and you are obviously tired, we are both also having a hard time thinking straight." "Yeah. we'll rest at the closetest inn." Amaterasu said.
Eri Ro yawned again, she was having a hard time keeping herself awake and to not fall asleep right then and there. Eri Ro and Amaterasu, were very happy when they found a inn so they could rest.
(Couldn't think of what to do with RP sample, but at this time I was super sleeply so..)